Looking Out For Our Community
I decided to visit The Statue of Liberty and Ellis Island. This is the first time since the last day I worked on March 11th. And even though I've made this trip a 1,000 times, this is different.
I take the subway like I always do, but this time I put gloves on to work the ticketing machine – just in case – because our Covid-19 numbers are starting to tick back up as school's are reopening and the restrictions are becoming more relaxed.
As I take my ticket, I hear the train approach! I run to catch it and quickly find myself out of breath. Is it because I'm out of shape? Or is it because I'm not used to wearing a mask going up the stairs? It's probably a bit of both.
Thankfully, the train conductor sees me and waits to let me jump into the nearest car. I wave thanking her and she waves back. Her small kindness feels enormous. I crave for my old life back, and this moment, well, it's a window back into that world.
As I sit on the train, I notice how thoughtful people are. Everyone's sitting as far apart as they can from one another. Everyone's wearing a mask - except the one girl sitting across from me. Her carelessness triggers me, but I'm not going to get in a fight over it. It's not worth it. Instead, I move away, not that that will improve my health risk, but it will improve the chances that I don't argue with her. These days I'm realizing taking care of my mental health is just as important as my physical health.
As we travel along, it strikes me I didn't realize how much I missed the loud, clanky-clank of the subway. This moment reminds me of when I first moved to The City and the sound felt so deafening that I put my fingers in my ears to dampen the sound. Now, that ruckus fills me up like a well-worn, favorite t-shirt that's softened over the years. Every clank of the cars, the screech and the squeal of the brakes against the tracks, the hum of the air conditioner, the muffled overhead MTA announcements that everybody strains to listen to but knows full well they'll never be able to decipher what the person is saying… feels like home.
And even with all this racket, it's eerily quiet. It's a ghost town. At most, there's only been 10 people in my subway car at any given moment, when normally there would easily be 200 people squeezing into the car to go to work at this time in the morning. No one is even standing on the platform.
And as strange as this is… it's okay. This means people are at home taking care of themselves and their loved ones. This gives me comfort and fills me up knowing NYC'ers are keeping true to their nature and looking out for our community.
When I arrive to Battery Park (at the South end of Manhattan), I go to buy my ferry ticket. I see N.! He sees me and rushes over. He's okay! With a slight Spanish accent he says, "Hello my friend, it's been too long. It's very good to see you! I can't believe it." "I know," I say," It was only supposed to be a few weeks and now it's almost been 7 months! Are you okay?"
N: "Yes! Thank goodness! You?!"
Me: "Yes, I'm well. How about your family?"
N: "Very good." You?!"
Me: "Yes, good! Everyone's okay."
We give each other one last look knowing we don't know when/if we'll see each other again, and then I head to security.
I make sure to say hello to everyone. It's so nice to see everyone. I see my friend W. is across the room. He doesn't hear me call his name. Everyone together helps me and calls to him for me. W. runs over and flashes a big smile under his mask.
It's been 7 months! All of this is surreal and reminds me just how much we all need connection.
I see my friend T. I tell him, "It's nice to see you. Haircut?" He says, "Yeah…" Me recognizing when he gets his haircut has been an ongoing game with us over the years. He blushes. His reaction is a big deal cuz he always has the "tough-guy" attitude, and no one would know he's a softy just by looking at him - but I know better. I tell him, "Put your mask over your nose! You're too important to get sick!" He does.
I've missed them and it's such a relief to see that everyone's okay. Honestly, I've worried a lot about them these past 7 months, especially since they come in contact with tourists all day long.
I've known people who have gotten sick and people who have died. And it's been really rough, but in this moment, I set all of that aside and only feel joy in seeing their beautiful mask-covered faces.
Me: I have to catch the ferry! I'm so sorry I have to go. It's been lovely to see everyone. Take care of yourselves!"
Everyone: "Come back soon!" they all wave and I'm off!
As I stand on the dock as the ferry approaches, I notice next to me some guys taking a mini-fashion photo shoot. It's nice to see people having fun on this beautiful day.
As the ferry docks, I see some of my favorite boatmen are running it. The Irishman is there. His voice is amazing. He has the thickest New York Staten Island accent and I love listening to him say, "New York, New York!" He got a haircut too. Today he is sporting a mohawk. It's pretty rad with his ginger hair.
I head up to the top deck and I meet a guy from Boston. Come to find out he's a fireman. He had the day off and decided to come to The City. He's headed to the memorial afterwards. He helped search and recover during the 9/11. As we talk, I make sure to let him know about St. Peter's and the Fireman's Memorial. When I give him directions I decided to send him up Broadway past Trinity Church. He's so excited I let him know about Alexander Hamilton's grave, "My son is going to be thrilled!"
The harbor is as beautiful as ever.
The sun is shining and the way the light hits the water makes it sparkle. That's my favorite color, by the way… the way the sun hits the water. I'm not sure if shimmer is technically a color, but I'm claiming as it is - so it is.
We arrive to Liberty Island.
It's empty… I mean empty. This is so weird! Normally, it would be packed.
I head over to the Ranger Station and ask, "Do you know if A's here?" The Ranger says, "Haven't seen him this morning, but I think he's around. I'll let him know you're looking for him." A. is one of my favorite people on the island. He does everything, including lighting The Statue, making sure she shines brightly in the dark! I love that. I mean, that's just really neat, you know! (Unfortunately, we don't end up seeing each other this trip.)
I head into the New Museum and it's also empty! As I take some photos I hear a low voice behind me say, "Excuse me, Miss, but…" I turn around and it's my friend and Park Ranger S.!
I'm so happy! We laugh. We catch up. We talk about how weird the world is. I ask him what it's like working on the island now, and he says, "At first, I was bored, but now… I'm enjoying existing…"
This is such a unique aspect of this moment. NYC'ers are always on the go, and this… well, just existing and being is very different for us. It's a whole new world.
I take some footage of the old torch and head over to The Statue. First, I pass by a cute Japanese family taking photos. Then, I walk a little further and approach the other dock on the island. I notice some of the security guys I know standing over there, and just as I was going to say hi, I realize they have detained the guys who'd been on the dock with me taking the photoshoot earlier in the morning. Now one of them has handcuffs on.
I have no idea what happened! But I do know there's lots of restrictions on what you can and cannot do on the island. And by the looks of it, these guys crossed the line and unfortunately were learning the hard way.
Every day on this island is an adventure!
As I make my way to the front of the Statue, a couple approaches beside me to take pictures. How do I describe them… hmmm… a couple in their late 50's, super tanned out, from Boston, who like to party. They're loud and funny. They're… "WE'RE FROM BOSTON!" she yells out. She has big, frosted hair, and energy of a teenage Spring-Breaker. She's carries-on, "Honey, I wanna go to the pedestal! I've been waiting to do this my whole life! Let's go!"
I'm sad to be the one to break the news to her that going inside the Statue has been shut down for the time being due to Covid, and only Ground-only tickets are available. "But the good news is, you're a neighbor and can come back when she opens up." The woman is satisfied with this and then turns her attention to accost the island photo-takers to help her take the perfect photo. The husband comes over, "Sorry about that. We haven't slept all night!" He asks about One World Trade Center. "Is it far way?" "No, not at all," I say. "We're going over to the memorial. We've been there before to make etchings of our friends' names… My wife was actually supposed to be on one of the planes! We work for the airlines. She's a flight attendant. I work in baggage. We knew all the crew. But her alarm didn't go off that morning and she decided to take the later flight. Can you believe it?! Not hearing her alarm go off saved her life!"
She calls for him, "Honey! Get in the picture with me, you big lug!" And off he went.
Man, they love each other. They're so cute. They know all too well that life is short, and, by the looks of it, they are determined to make the best of every moment.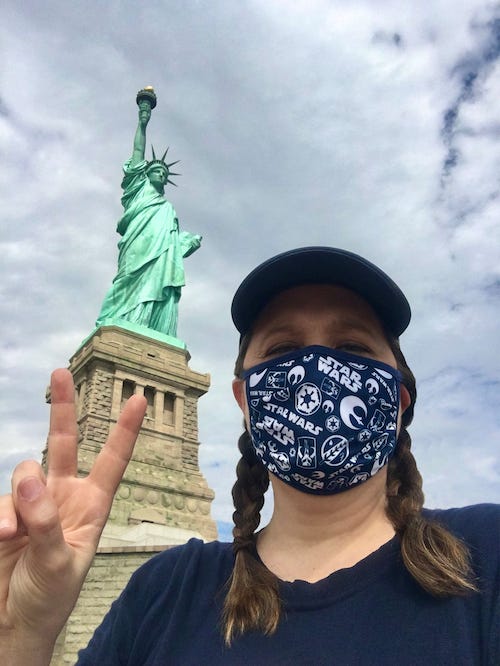 I take more footage and as I head out I see another small camera crew. A guy is making a rap music video. It's just him and his friend hand holding a camera. I'm not sure that this fits entirely within the island's rules… I'm pretty sure it's skirting the fine line, but… not for me to say. Instead, when I pass by I say, "Artists are important. I'm glad you're using your voice to make the world a better place." He smiles.
I head to the cafeteria.
There's a young boy checking everyone's temperature. I haven't met him before, he must be new. As I introduce myself, I notice he has a physical ailment of some sort making it so he can't stand up straight and his speech is slightly labored. This is one of the things I really appreciate about The Parks. They hire people with disabilities. Honestly, I think all business need to follow in their footsteps to be more inclusive. Life would be better for it. J. checks my temperature. I'm good to go and he has me sign his paperwork - just in case he needs to contact me. I thank him for his help in keeping everyone safe.
Next… to the food counter.
Thick plexiglass is everywhere. As awkward as this is, it makes me feel good everyone's being taken care of. I say hello, and E. asks "What can I get you?" I say, "Nothing… just checking in on everyone to say hello." We chat and everyone's well.
Then I go to check in with my ladies who work the registers. Usually, our conversations revolve around making plans for our next dream vacation we want to take. But this time, instead they fill me in that I'm only the second tour guide they've seen in 7 months. The other guide they see very rarely and he only ever has a few people with him. "Where are your people?" They ask. I explain to them, "I'm not working today. I just came by to take some video and to say hello and see how everyone is." They're shocked and sad to hear I haven't worked since March. It's really shocking coming from me, since I'm one of the few tour guides that works consistently throughout the year on the islands. They're not sure how to process this information. Honestly, I don't know how to either. Because my news doesn't only impact me. It also impacts how much work they will have too and whether there might be even more layoffs coming down the line. I say, "Yeah… we'll see what happens... I hope the next time we see each other, we can start planning our vacations again. I gotta go grab the next ferry. It was really nice seeing you ladies. Love you! Take care of each other, okay?!" They say, "Love you too! It's nice to see you!"
And I run to catch the next ferry.
This time I choose to stand mid-deck at the front of the ferry. As we sail across the harbor, it feels very Titanic with the wind blowing through my hair - minus Leonardo DiCaprio and the ferry sinking.
I love this harbor. There's something magical about it. For the rest of my life, I know I have to live by water. There's something about it that just feels… right.
Now to visit Ellis Island.
First, I head inside and go to the gift shop to see if they carry memory cards for my camera. Alas, no. Some of the cards I brought with me I thought were empty, but… I was wrong. Hmmmm… So, now I have to be super careful with my shots.
In the distance, I hear a thick Jamaican accent call out, "Hey, is that you!? It is! Ahhhh…" It's my friend Z. who works in the cafeteria.
It's now slowly dawning on me how many people I know on these islands and say hello to every time I visit!
This is me. This is my nature. I accept this about myself. And I'm totally fine with that.
We stand in the hallway and catch up. His family is safe. But he's worried. He's not working as much… which is really hard on him. One: because he's not making as much money…, and two: he has strong work ethic. When he's not at Ellis he referee's basketball games, but that isn't happening, sooo, now the question is how does he fill his time?
Some visitors walk by. Z says, "How are you miss? Enjoying yourself?" The woman says, "I am." Z: The gift shop is to your right and this is the entrance to the cafeteria. Welcome. Thank you for visiting." They decide to shop.
Z. and I look at each other and say, "Somehow, we'll make it through."
I head upstairs to the Registry Room and I hear, "Is that Rachel?! Yay!" It's Q, another Ranger. I almost didn't recognize him from the distance since his face is mostly obscured by his Ranger hat and mask. But sure enough, it was him.
As he monitors the exhibits, I decide to walk with him to catch up. Normally this would never be possible, because it's always too busy to talk for any length of time. This is nice.
We head up to the third floor and walk through the "Treasures From Home" exhibit. This my favorite exhibit in the entire building. On display are donated family artifacts and the walls are wallpapered with photographs of people who immigrated through the island. I explain, "Once I had a woman on one of my tours and I brought her up here. As we were talking we came across her great-aunt's photo on the wall. This is her!"
As we walk along I film the Registry Room, and that was it. Time to go.
I don't know the next time I'll be back to the islands… but I am grateful for the time and to see people I care about and a little spend time with them. It's been too long.
This is a tiny slice of my New York City. And as hard as the last 7 months have been, seeing some of my favorite people reminds me that we're going to get through this - because we have each other.
With Love, Us

SUBSCRIBE TO: Youtube, Facebook, and/or Instagram.
www.WithLoveUs.com